Prince Albert Police Chief Troy Cooper checks out the signs made by Prince Albert Grand Council youth. Photo by Chelsea Laskowski.
Prince Albert Grand Council youth are getting to know the people behind the police uniforms in the city.
On Friday, they prepared and delivered a thank-you hamburger lunch to Prince Albert Police Service headquarters.
"I think it's important to thank the police for risking their lives, and for us, because they do a lot of hard work," said 16-year-old Rebecca Strong.
Earlier in the day, the youths who are participating in the PAGC youth summer day camp created "thank you" signs, and held them up to show police. One youth even held his sign along a well-travelled intersection in Prince Albert so drivers could see it as well.
"It touched me right to the heart there. It was incredible," said Police Chief Troy Cooper.
"To see the youth actually holding signs and genuinely wanting to thank us, that as touching for sure."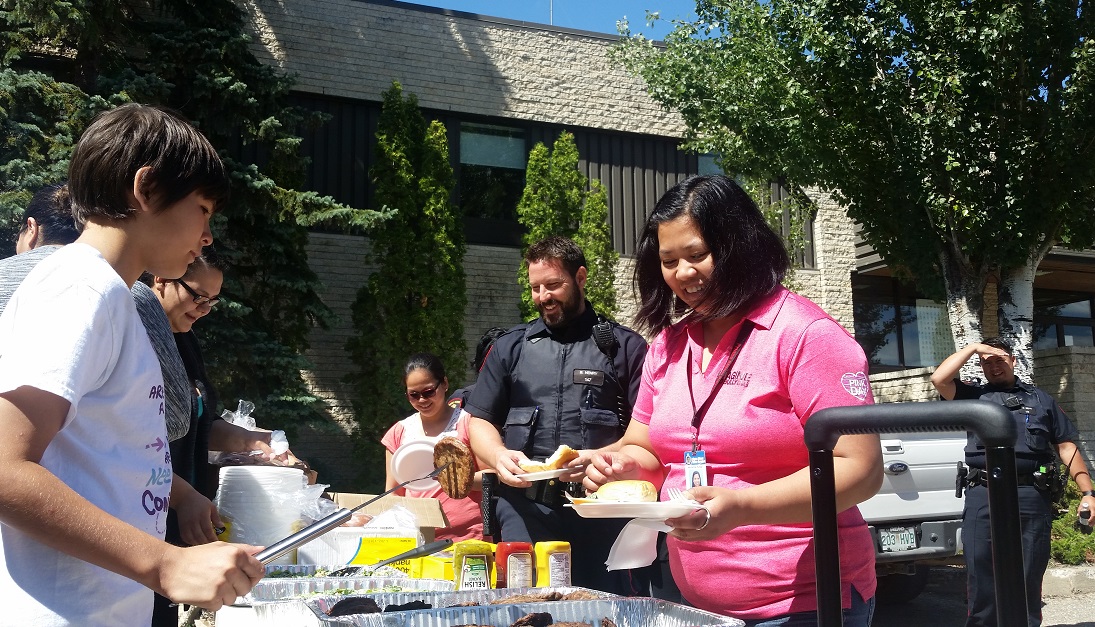 It's an act of kindness that comes in the midst of a difficult summer for police officers across the world after a series of police-involved shootings in the United States. The killing of black men Alton Sterling and Philando Castille were both caught on camera and widely distributed online.
Even though Strong is only 16, those events have had an impact on her thoughts about police.
"Some of them are nice and some of them keep away a lot of the bad people. Like, I've watched videos of some bad cops and some good cops," she said.
Events like that are on Cooper's mind, and he said when youths reach out like this it's a chance for police to do their part to form vital relationships.
"We're reaching out to them to tell them that we care about them. We're going to show them the office, we're going to talk to them about careers in policing. And let them know that we're humans, that we have our own children, that we actually care about them like their own parents do and like the people at PAGC do," he said.
Grand Chief Ron Michel spoke to a crowd of about 30 people over lunch, and pointed out those relationships are especially important when you consider that PAGC has a very young population.
About 60 per cent of the 38,000 people are between the ages of newborns to 20 years old.
Next week the youth are holding a similar event at the Prince Albert Fire department.