Prime Minister Trudeau in a brief conversation with LLRIB Chief Tammy Cook-Searson.
While visiting a First Nation high school in Saskatoon on Wednesday, Prime Minister Justin Trudeau opened the floor to questions from students who rose to the occasion with tough questions.
The Prime Minister made a stop at Oskayak High School during his visit to Saskatchewan.
Mr. Trudeau spoke highly of the program and the Oskayak school for maintaining pride in First Nations language and culture.
"The extraordinary school spirit and success that happens hear in Oskayak is an example of what we need to work not only here in Saskatoon, but across the country."
He also spoke on his governments continued effort to invest in First Nation education.
After a few questions from the media – who grilled the Prime Minister on the energy sector – he opened the floor to questions from the students.
The well-thought out questions ranged from education, jobs and treaties and the students were not afraid to let their passion be shown on these issues.
Including one Grade 12 student who grilled the Prime Minister on treaty promises.
"How do you Justin, with all your politicians and representatives, plan to right the wrongs where the past 22 elected Prime ministers have failed? How do you allow people of this country to live and endure in third world conditions?"
Those in attendance applauded the question and the Prime Minister's response was simple and to the point.
"The federal government can't fix this…we can't fix it on our own," says Trudeau.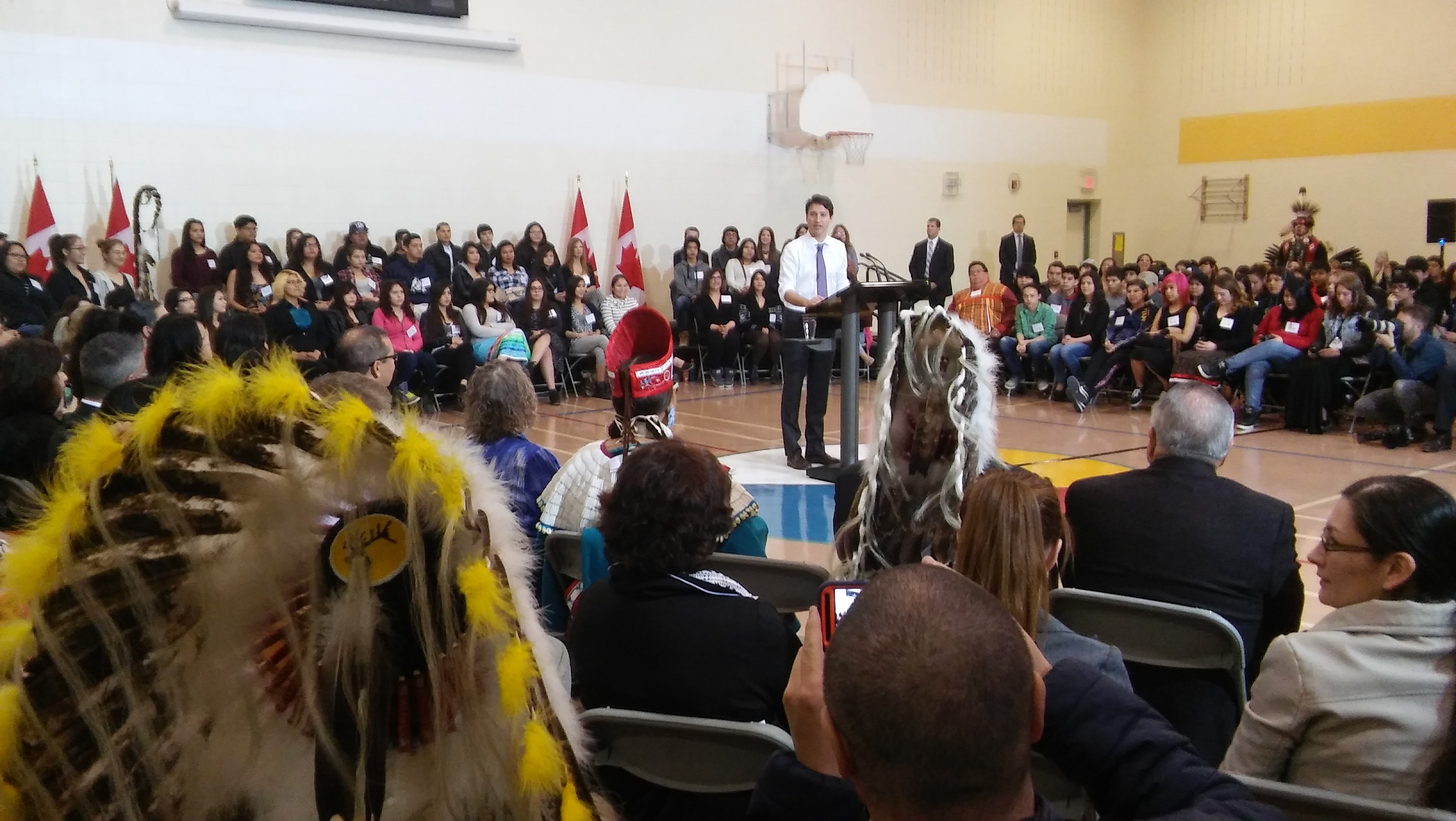 Federation of Saskatchewan Indian Nations Chief Bobby Cameron says the questions proved how "in touch" these students are with what's going on.
He also says he was happy to see the Prime Minister on Treaty 6 territory.
"The visit demonstrate the Prime Minister's commitment to improving the lives of First Nations people."
Also on hand for the Mr. Trudeau's visit was Chief Tammy Cook-Searson of the Lac la Ronge Indian Band.
She says she was hoping to get an audience with Trudeau to speak on housing in the band as well as their plans for a mental health wellness project.
Chief Cook-Searson says if she isn't able to meet with Mr. Trudeau today she hopes to set up a meeting in Ottawa in the near future.
Prime Minister Trudeau continued his visit with a stop at the YWCA and a meeting with Saskatchewan Premier Brad Wall.