Ministry of Environment Landill Manager Sarah Keith with one of the finds out in Nisbet Forest. Photo by Chelsea Laskowski
The Ministry of Environment's work with wildfires has grabbed people's attention in the past year, but there's been a much more modest effort going on in the provincial forest near Prince Albert.
Through a partnership with local residents called "Keep Prince Albert and Area Beautiful," the Ministry's staff has collected more than 4,000 kilograms of garbage from more than 50 different illegal dumpsites in the Nisbet Forest since last summer.
For Ministry of Environment Landill Manager Sarah Keith, there are plenty of reasons to keep areas like the Nisbet Forest clean.
"There's the environmental aspects, but there's also the tourism as well as just being close to Prince Albert lots of families enjoying hikes or days in the Nisbet Forest as well as your hunters or avid outdoorsmen," she said.
On Thursday, a crew of about 30 Ministry of Environment workers were clearing out one of the 80 spots that people use as a dumping ground for tires, appliances, and more.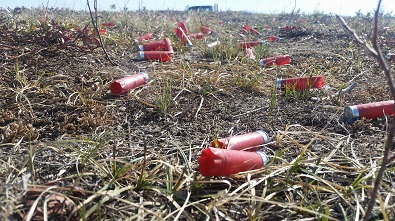 With hundreds of gun shell casings littered around, Keith said the garbage on Thursday's site was especially tough to collect.
"They didn't just dump it and leave it whole. It looks like they shot everything up to pieces which spreads it even further amongst the forest and makes it more difficult to clean up," she said.
The most frustrating finds for Keith include paint cans that pose a pollution risk.
But the worst result of illegal dumping "from my perspective, is the amount of electronics and recyclable material that we're just finding dumped that can go to recycling facilities or be dropped off at SARCAN for free," she said.
Her message to the public remains the same as it was last year – that people should take items that belong in a landfill to the right place – and that lots of items can be recycled for free.