An inquest into the death of an Aboriginal woman at Saskatoon's regional psychiatric Centre has been adjourned to a later date.
Kinew James died at the facility in 2013 after it was alleged her calls for help went unattended.
An inquest into her death was scheduled to begin in Saskatoon on Monday.
The adjournment stems from a request from the Elizabeth Fry Society to have the scope of the inquest expanded to include James's entire experience of the correctional system.
Something Elizabeth Fry Society National Director Kim Pate feels is vitally important.
"We hope it is not just a few hours or a few days before she died that's examined, but the entire time she was in custody," says Pate who is also a professor at the Law School at the University of Ottawa.
The group put forward 8000 pages of documents to be used as evidence in the inquest detailing James's experience with Correctional Services of Canada throughout her life.
Kim Pate says not all of these documents will be extremely relevant, but many of them will be.
"Corrections has some idea on why they made the decisions they did based on how they classified her, where they transferred her, how they treated her, whether in fact she had appropriate medical intervention and that is all relevant to how she died," says Pate.
She does say they did not have time to present the evidence to the inquest earlier because they were granted standing so late in the process.
After some discussion, the Coroner agreed that this evidence was necessary and adjourned the inquest to allow all sides time to review the documents.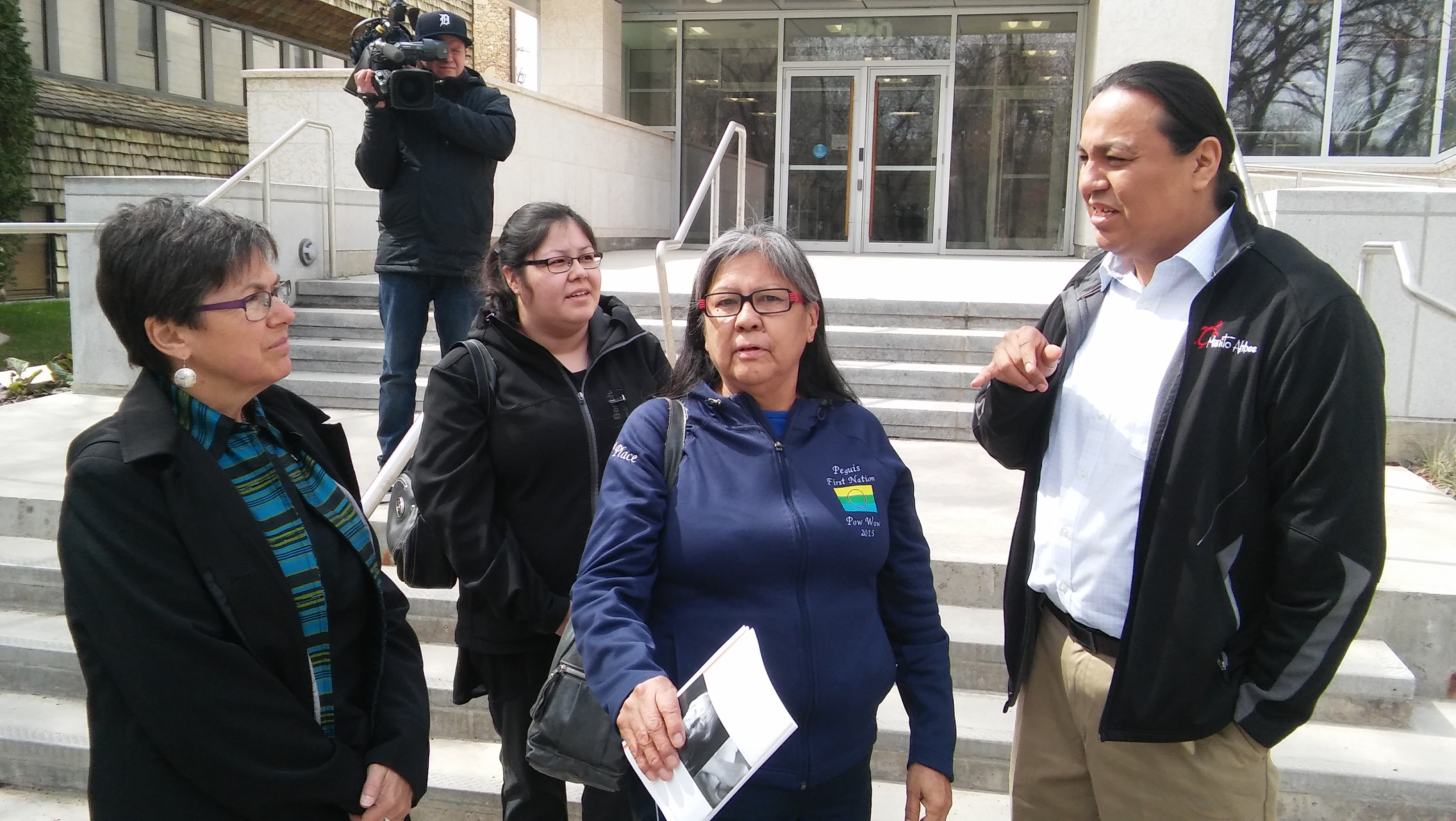 Family members of Kinew James speaking with Elizabeth Fry Society National Director Kim Pate outside a Saskatoon courtroom on Monday.
Even though family members of Kinew James travelled to the inquest from Winnipeg they say they are glad it was adjourned.
Her brother Cecil James says it will now give the family time to review all of the evidence.
"I believe she was at RPC 13 times over her sentence, so there is a pre-established relationship there, so I believe it would have had an effect on response times," says Cecil James.
Kinew was from the Roseau River Anishinabe First Nation south of Winnipeg.
Her brother describes her as a smart and loved lady.
"She had lived a hard life, but she was loved, she loved her family, she loved to laugh and that's how we will remember her," says Cecil.
The inquest into Kinew's death is expected to resume sometime later this year or early next year.