Jazz Moise and Kayla Ponicappo have filled time working at the local radio station since the shooting. Photo by Chelsea Laskowski
Teachers and students in La Loche are returning to some semblance of normalcy after a month of grieving.
On Tuesday afternoon, about 500 kids from kindergarten to Grade 6 were back in school for an open house with fun activities. This was the first day parents have dropped their students off at school since the shooting at the nearby high school's Dene Building.
The elementary school staff at the Ducharme Building have stayed as tight-knit as ever through La Loche's tragedy, and are eager to get back into classes on Wednesday, said assistant principal Leanne Gailey.
It's not just teachers, it's kids who are excited to return.
"When we see kids down the street they're like 'Miss Gailey, when's school starting?' I'm like, 'It's going to come, don't worry,' so our kids have been wanting to go back, our parents have been wanting to com back. So it's been a great day," she said.
She described the feeling of returning to school as like "the first day after school in September. Everybody's happy."
Education minister Don Morgan made his fourth trip to the village to finalize that process, and his voice wavered as he said they've turned a corner.
"You have no idea how nice it was to go into the school and see kids running around and laughing. It was really good to see that," he said.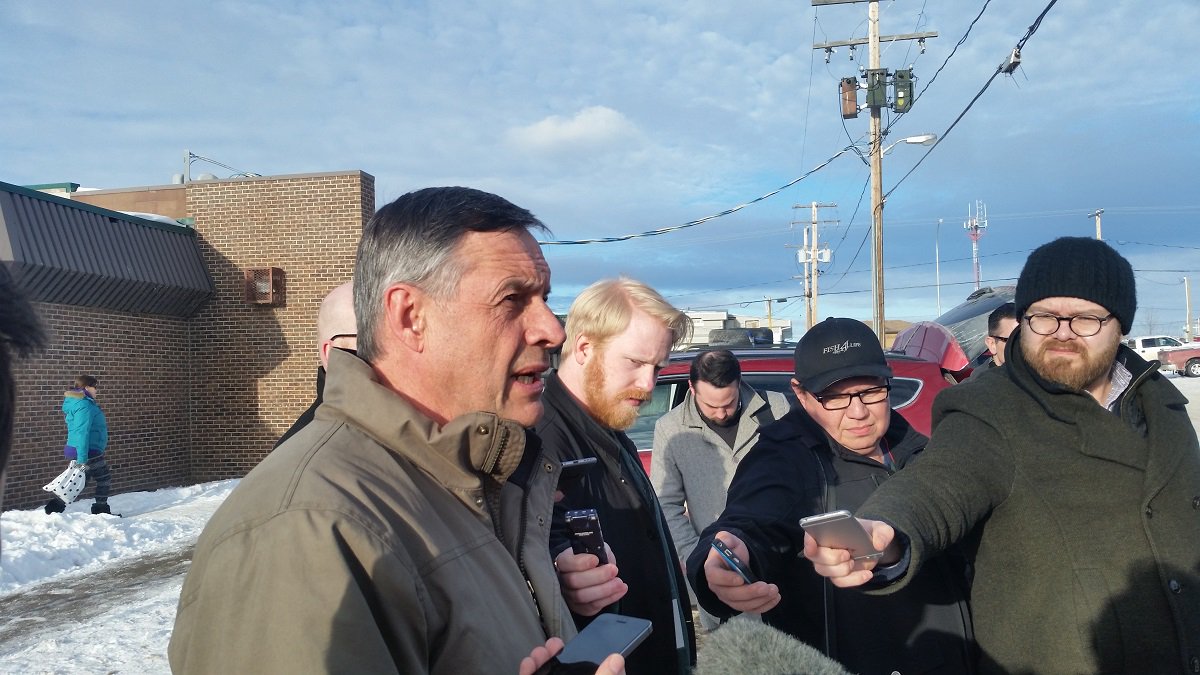 Education Minister Don Morgan addresses media after a day of meetings in La Loche on Tuesday. Photo by Chelsea Laskowski
He says security and safety have all been addressed, and now they're listening to concerns about education itself. This includes making sure the high schools' metalworking shop, woodworking shop and kitchen facilities are fully utilized.
Wednesday will be just as busy in the community.
There will be a walk to reclaim the high school, and a tour of the changes made since the Jan. 22 shootings.
The high school has been renovated and students there will start returning to classes on Friday.
Until then, it's been up to local teens to keep themselves occupied.
Grade 11 student Kayla Ponicappo has always seen school as a safe place, and she's been spending time at the elementary school. She was in class when the shooter came into school. One of her classmates ran into the classroom and told everyone to get down. The door was locked as well. If that hadn't been done, she isn't sure what would have happened.
Ponicappo and her friend Jazz Moise, a Grade 10 student, say it won't be easy but they want to get back into the routine. They want to see their school friends again and interact through school acitivities.
Crews have worked to change the high school where two were killed, to make it easier for traumatized teens to go back.
Moise had the afternoon off school the day of the shooting. He says he felt emotional, and cautious when he walked through the school on Monday.
"Even though I wasn't in the building that day it just made me feel for other people. I just felt how other people felt. I was walking through the hallway, I had to look in each corner just to feel safe," he said.
Both Moise and Ponicappo say it won't be easy, but know it will get easier with time. However, not everyone is ready to return. Moise's sister was in a classroom where someone was shot and is still recovering.
Counselling has eased that pain, but not erased it.
The school division has acknowledged that some teens won't be ready for their planned return to school on Friday.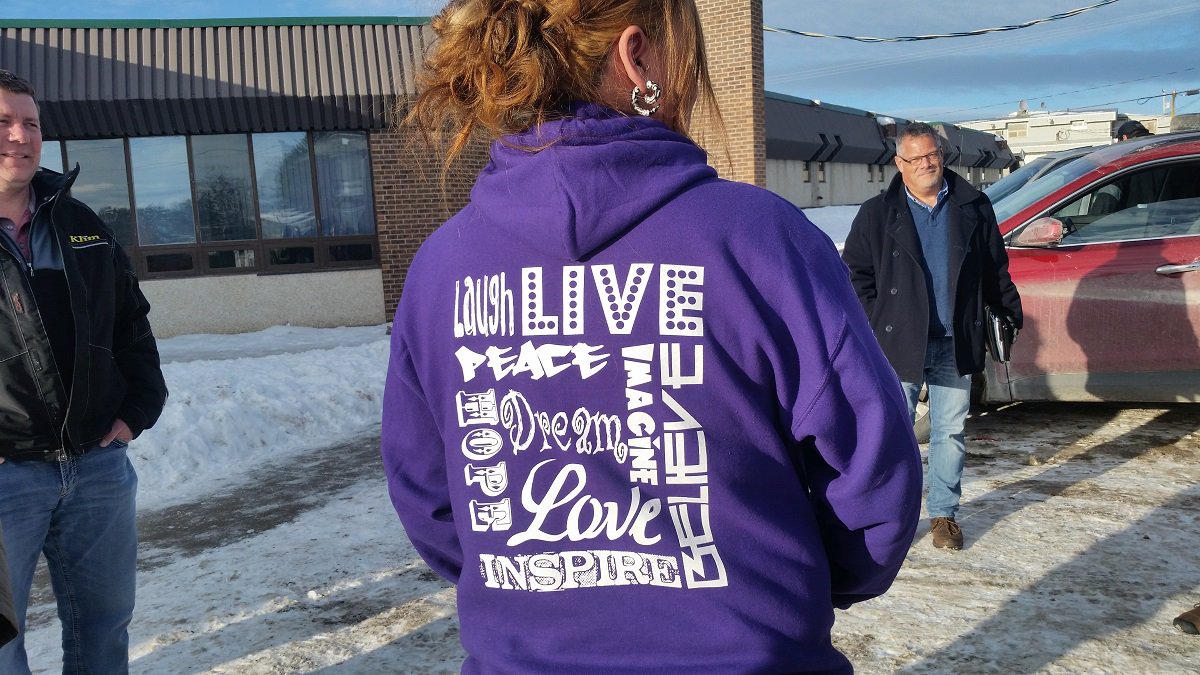 Leanne Gailey shows the bunnyhugs she and all staff at the Community School have made to show their solidarity. Photo by Chelsea Laskowski