The lawyer for the La Loche teen who's at the centre of a national tragedy spoke after his first court appearance on Monday.
Grief has stricken an entire community, with four La Loche residents dead and seven injured in Friday's school shooting.
A 17-year-old aboriginal boy is charged as the one responsible. The tall, lanky teen sat with his head down throughout most of his court appearance, nodding and gave quiet answers in response to the judge's questions.
On Monday, the boy spoke to his lawyer Ian Mokuruk, for the first time after being contacted by the teen's family on the weekend.
"He's upset, much like his demeanor in court. He was not at all happy, which is understandable. It's a very tragic situation," he said, refusing to comment further on speculation that the teen had been bullied in school.
Mokuruk, a lawyer who's spent 14 years in La Loche, said the bigger picture is a tough pill to swallow for the community.
He said it could take weeks to get all the information, statements, videotape, and reports from police. In the meantime, the teen will be in custody. Based on conversations between the judge and others in the courtroom, he'll be at Prince Albert's Youth Custody facility.
FSIN Vice-Chief Bob Merasty said court was emotional for everyone, including the family members he was in court to support.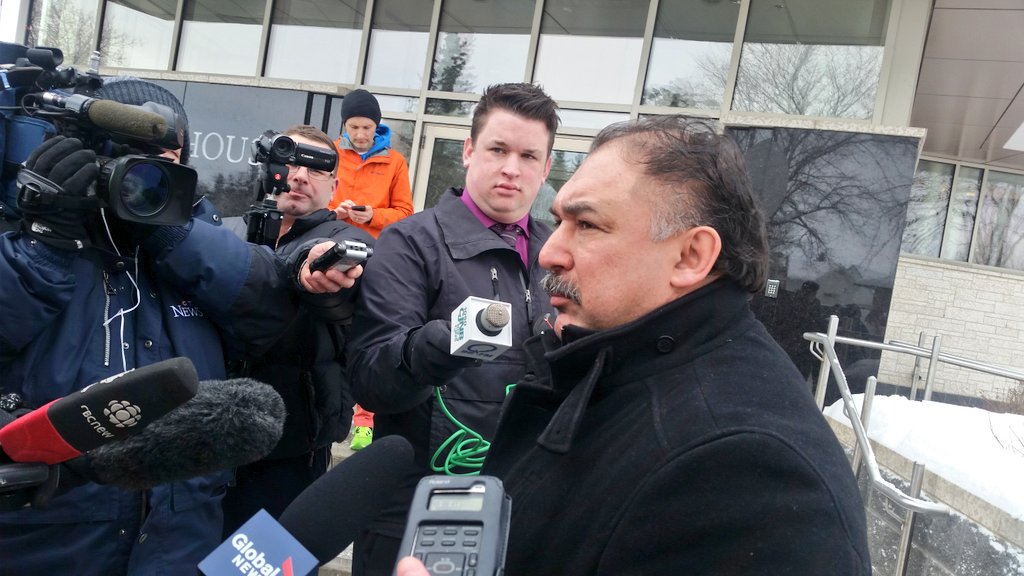 "Very, very emotional. There's some people, you know, everyone in the room, we're all saddened by this," Merasty said.
"This could be our young people, this could be our community. So we're all feeling a lot of grief at this time."
In relation to a publication ban requested on the names of the seven victims who are still in hospital, Merasy said he respects the need for privacy.
"The families have been very, very clear that they want their privacy, they need to be together, they need to deal with their grief and their loss. Their health and their wellness is paramount at this time."
Merasty's home reserve is Flying Dust First Nation, where he had previously been a chief. The situation in La Loche hits close to home for him, and sheds light on a stark reality – "this could be my community," he said.
""This is so close to home. We've seen this happening in the States but this is right in our back yard. This could be any community, you know, and I think that's what's come to light here is that this is a young man that's perhaps a victim himself of circumstances it's a community with a history of violence, bullying, suicides drugs, and abuse and dysfunction."
Now, the nation is standing at attention asking "why, why why?" Merasty said.
Young people's needs are calling out – and this was a painful cry for help for all First Nations communities, he said.
In response to the needs of young people, he said the White Buffalo Healing Lodge out of Saskatoon can lend some inspiration. Meeting with Elders and learning Dene culture can bring the self-worth and confidence that aboriginal culture promotes, Merasty said.
"This was a young gentleman that probably needed somebody that he could go see, needed somebody that he could talk to."