Current News
| | | | |
| --- | --- | --- | --- |
| Nearly 1,000 people return home to Pelican Narrows; evacuation orders rescinded in other communities | | | |
Written by Joel Willick
Friday, 15 September 2017 12:31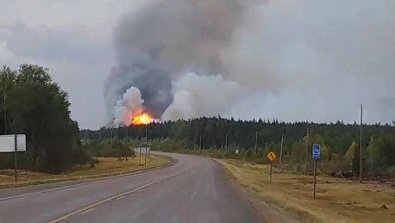 Photo courtesy Saskatchewan Department of Highways.
Nearly one thousand people have returned home after being evacuated by northern Saskatchewan wildfires.
Emergency Social Services says around 930 people have been able to return home to Pelican Narrows and Sandy Bay after being forced from their homes last month.
However people with healthcare concerns, pregnant women and those taking care of children under two years of age remain evacuated.
The Hank Ruys Soccer Centre in Saskatoon has now been closed as an evacuation centre and those still in Saskatoon are staying in hotels.
In addition, evacuation orders have been rescinded for Tyrell Lake and Jan Lake with residents of those communities able to return home. Officials hope to rescind the Birch Portage evacuation later today. They say there is a clean-up operation to undertake and they will return those residents when that operation is complete.
Highway 106 has been opened to regular traffic, however, officials say smoke continues to be an issue on the highway and surrounding communities.
Meanwhile, Duane McKay, the province's head of emergency management, says there is good news on the fire-fighting efforts.
"Right now the conditions are very good," said McKay. "We've got a different situation than we have seen in the past. With the changing weather we have seen significant progress on the fire and the impact on communities."
He says smoke is the biggest concern for crews at this point, however, air purification systems have been set up in buildings in Pelican Narrows, Sandy Bay and Deschambault Lake.
There continues to be 300 people directly working to battle the fires that continue to burn.
Officials say they are not likely to see the fires extinguished until either fall rains or winter help them in their efforts.
Last Updated on Friday, 15 September 2017 12:32
| | | | |
| --- | --- | --- | --- |
| Breakfast of Champions at the Muskowekwan First Nations school | | | |
Written by Manfred Joehnck
Friday, 15 September 2017 10:58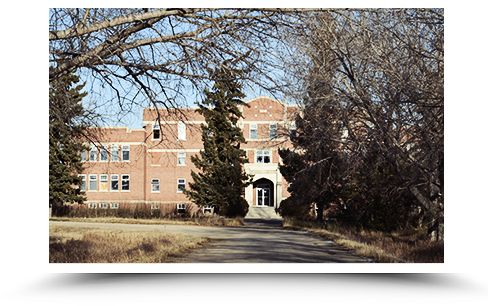 Photo courtesy muskowekwan.ca
A big school breakfast was held today to celebrate a winning effort at the Muskowekwan school, about 160 kilometers north of Regina. The school is 1 of 10 in the province to be awarded a $10,000 cheque in the Mosaic extreme school makeover challenge.
The challenge is all about encouraging schools to come up with initiatives to improve student nutrition.
This was the second time Muskowekwan entered the contest. Last year it lost but this year it was a winner.
School principal, Sharon Windigo, couldn't believe their good luck.
"Oh my God, we were yelling and screaming and I was running all over the school to tell the teachers and the students and everyone was so excited," she said.
While a big industrial dishwasher is not something most school children can get excited about, Windigo says they are super excited to be hosting the event.
"They will be running the whole show today, we have student greeters to meet the dignitaries at the door, we have a student MC, " she said. "When we do events like this the students handle the whole thing and the teachers just kind of stand back and watch."
Windigo says the appliances at the school are pretty old and worn out and are at least 18 years old. She says a lot of them are even older and were donated from the old Muskowekwan residential school when it closed in 1996.
Mosaic and the Saskatchewan school boards association have been hosting the challenge since 2006.
"Each year we have the opportunity to visit a winning school and take part in the Walk to Breakfast," said Sarah Fedorchuk, Mosaic's Senior Director, Public Affairs. "It's great to see the project come to life with the grant funding Mosaic provides, but what's even better is seeing the students' excitement about what the changes will do for their school and its nutritional environment."
"Muskowekwan School can be proud for being chosen as one of the top 10 schools in Saskatchewan for your work to promote a healthier learning environment for students," said Larry Doke, Minister Responsible for First Nations, Métis and Northern Affairs.
Many schools submitted projects to compete for a total of $100,000 in prizes, provided by Mosaic. Other schools receiving grants this year are part of the Good Spirit, Greater Saskatoon Catholic, Northwest, Prairie South, Saskatchewan Rivers, Saskatoon Public and Horizon school divisions; the Conseil des écoles fransaskoises; and, Key First Nation.
Last Updated on Friday, 15 September 2017 11:56
| | | | |
| --- | --- | --- | --- |
| Provincial government tight-lipped about Tazi Twe | | | |
Written by Manfred Joehnck
Friday, 15 September 2017 09:06

Photo courtesy of Canadian Environmental Assessment Agency
The provincial government is being tight-lipped about Tazi Twe.
The future of the $630 million hydro-electric project near Black Lake is in doubt. SaskPower's Board of Directors has weighed in, but no one is saying what direction it wants to go.
Back in May, SaskPower President, Mike Marsh, travelled all the way to Black Lake to inform members of the local First Nation that things had changed and there may no longer be a need for the project.
The problem is a slump in the uranium industry. Marsh says the mining sector is the biggest customer of power in the north, consuming about 80 per cent. Because it is laying off workers and shutting down mines, there might be no immediate need for the hydro-electric project.
SaskPower's Board of Directors met in late August to review the project and make its recommendations, but the final decision is being left up to the provincial cabinet. Tazi Twe has come up for cabinet discussion twice, but at last report, the government was still reviewing the recommendations of the SaskPower Board of Directors.
SaskPower won't comment either, saying it will be up to cabinet to make the decision. SaskPower won't even say what the board is recommending.
The Tazi Twe project would have injected $1.3 billion into the local economy over 90 years. It has already received federal environmental approval, as well as approval from the Black Lake First Nation. It would be the only project of its kind in Saskatchewan.
The project's website and Facebook page are inactive, with no new activity for several months.
MBC news has put in a request for an interview with SaskPower Minister, Dustin Duncan, but so far, there has been no response.
Black Lake is located in the far northeast part of the province, about 100 kilometres south of the Northwest Territories.
Last Updated on Friday, 15 September 2017 09:15
« StartPrev123

4

5678910NextEnd »
Page 4 of 3134