Current News
| | | | |
| --- | --- | --- | --- |
| Ombudsman says complaints against provincial ministries and agencies up 22% in 2015 | | | |
Written by Manfred Joehnck
Thursday, 28 April 2016 10:33
Complaints against government ministries and agencies were up 22 per cent last year, with Saskatchewan's Ombudsman investigating a total of nearly 3,000 complaints.
The numbers are contained in the Saskatchewan Ombudsman's annual report which was submitted to the legislature Thursday morning.
Ombudsman Mary McFadyen says there are a number of reasons for the increase.
"We would like to think it's partly because there's more awareness of what our office does and our role," she says. "Because we did have a high-profile, public investigation last year into Santa Maria, so I think that brought more awareness to our office. In general, the increases we saw were with respect to correctional centres."
In other areas, complaints against the Ministry of Social Services were up 11 per cent b,ut the biggest jump with in the Ministry of Corrections which saw an increase of 31 per cent from 2014.
Of the 950 complaints directed at Corrections, 59 were complaints about the quality of food,    but they were counted as only one complaint because they all dealt with the same issue.
McFadyen says there was a wide variety of other concerns.
"The issues from correctional centres varied. It could have been segregation, excessive use of force," she said. We also get people concerned about medical issues like access to medications and doctors."
Nursing home care also received special attention in the report as a follow-up to recommendations that were made last May following the death of a 74 year old Regina nursing home patient.
Margaret Warholm died of complications after suffering fractures in her back, was malnourished and covered in bed sores.
McFadyen's annual report says 13 of the 19 recommendations in her May 2015 recommendations have been implemented and progress is being made on the others.
She says health districts have a major role to play.
"The Ministry of Health and the Regina Qu'Appelle Health Authority, the recommendations we made to them are the big ones," she said. "They have to make sure the guidelines are a standard for how health care is provided in long term and they have to ensure that each long term care home in the province is meeting them."
McFadyen has requested another update in August which will also be released publicly.
Last Updated on Thursday, 28 April 2016 12:39
| | | | |
| --- | --- | --- | --- |
| Cadmus Delorme elected chief of Cowessess First Nation | | | |
Written by Manfred Joehnck
Thursday, 28 April 2016 09:41
There has been a shake-up on the Cowessess First Nation.
Cadmus Delorme easily ousted Terrence Lavallee as chief in Wednesday's band elections on the First Nation, which is about 165 kilometres east of Regina.
Five new band councilors were also elected, while two others were returned to office.
The 33-year-old Delorme was all smiles on Thursday as he held his first band meeting as Chief. He says these are exciting times to be a First Nations leader.
"It's 2016," he says. "There's technology around today. There's stakeholders willing to invest in First Nations. We have governments willing to participate more with First Nations. It's just so many moving parts."
Delorme is an award-winning golfer and was the student recruitment officer for the First Nations University of Canada.
He says he is giving up both careers and will focus all of his energy on being chief.
"I will put everything aside that I have done in the past and today, I am Cadmus, Chief of the Cowessess First Nation,' Delorme said.
This was his first run at public office. He has been campaigning for the last several months, and during that run he was named one of CBC's Future 40 winners.
Last Updated on Thursday, 28 April 2016 13:01
| | | | |
| --- | --- | --- | --- |
| Cumberland House Cree Nation and Metis local sign MOU, plan to bring united voice in upcoming negotiations | | | |
Written by Chelsea Laskowski
Wednesday, 27 April 2016 17:04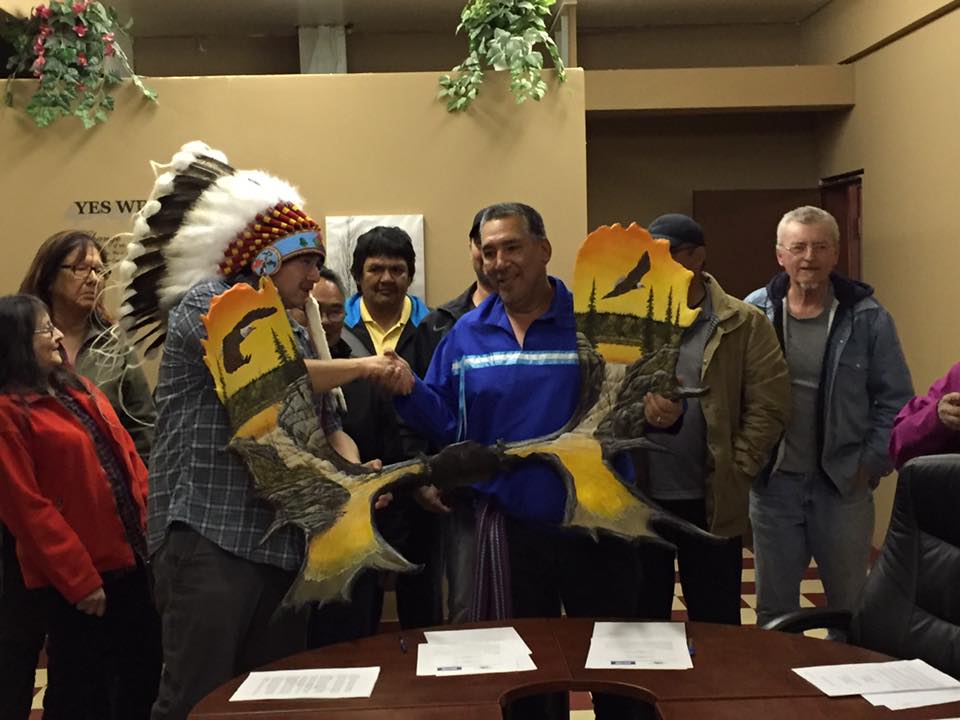 Chief Lorne Stewart and Metis local President Gerald Favel at the MOU signing. Photo courtesy Facebook, Lorne Stewart
Two indigenous groups from Cumberland House have signed a memorandum of understanding to bring a united voice to negotiations for upcoming economic projects.
The Cree Nation and Metis Local are maintaining separate governance, but want to negotiate as one.
The agreement will help both sides at the bargaining table for some upcoming projects relating to their territory, said Metis local president Gerald Favel.
"I've been talking to the Chief Lorne Stewart… he came to me and said 'you know Cumberland House has been separated for a long time and we should come together as one,' and I looked at him and I said 'hey that's a good idea, you know, to be a stronger voice.'"
This stronger voice will be involved in upcoming negotiations with SaskPower about Cumberland House's involvement in the E.B. Campbell Dam.
"From there we're going to move forward, negotiate for the people of Cumberland House for jobs and resources," Favel said.
Longstanding rifts in the Metis Nation-Saskatchewan have been unfortunate for Metis Locals like his, Favel said.
"The way the Metis Nation has been arguing amongst each other, it's a sad situation," he said.
These talks between leadership in Cumberland House started before the Daniels decision was rendered in mid-April.
The Daniels Supreme Court ruling states that Metis people and non-status Indians are considered Indians under the Constitution. The effects have yet to be felt, but the federal government will have greater responsibilities to Canada's Metis people and non-status Indians.
Last Updated on Wednesday, 27 April 2016 17:16
« StartPrev123456789

10

NextEnd »
Page 10 of 2571