Current News
| | | | |
| --- | --- | --- | --- |
| Northern Saskatchewan activist group organizes rally at U of S Senate meeting | | | |
Written by Joel Willick
Sunday, 24 April 2016 19:09
Several northern Saskatchewan community members and Indigenous critics of industry caused a stir at a University of Saskatchewan Senate meeting on Saturday.
The group representing the Committee For Future Generations organized a rally to try and have their position heard about industry in northern Saskatchewan during the meeting.
The rally stems from the U of S Senate meeting in October, which featured a presentation by Neil Alexander, director of Sylvia Fedoruk's Canadian Centre for Nuclear Innovation.
In response, elected senator Mary Jean Hande put in a request to have Candyce Paul, Outreach Coordinator from the Committee For Future Generations and member of the English River First Nation, provide an opposing side to Alexander's presentation.
That request was denied by the Senate executive committee.
In a letter in response, the executive committee says the "Senate is a forum for receiving information on the work of the University of Saskatchewan and its centres and institutes, and that Senators with interests in alternative views are free to pursue those interests."
Despite the denied request, supporters of the Committee for Future Generations showed up at Saturday's meeting anyway with the hope that Paul's presentation would be added to the agenda.
When that request was denied again, committee sympathizers voiced their displeasure at which point they were asked to leave the area.
Paul says it was important to try and get their message to the U of S Senate because they are the ones who make decisions on what kind of research takes place at the University.
"Sometimes these decision are not in the best interest for Indigenous people," says Paul.  "It seems sometimes it is all about business and they are using programs like Indigenous government and northern development to push corporate development."
Paul says even though she was denied an opportunity to speak at the Senate meeting, she hopes people will share the committee's view on the nuclear industry.
"They are selling a product, in the end they have a sales pitch," says Paul.  "We don't need to be tied to this boom and bust economy, so people in the north need to develop our own locally sustainable economy."
The Senate meeting continued after a brief recess, and no one representing the U of S Senate was immediately available for comment.
Last Updated on Monday, 25 April 2016 10:24
| | | | |
| --- | --- | --- | --- |
| Politicians, industry respond to Rabbit Lake mine closure | | | |
Written by Chelsea Laskowski
Friday, 22 April 2016 16:39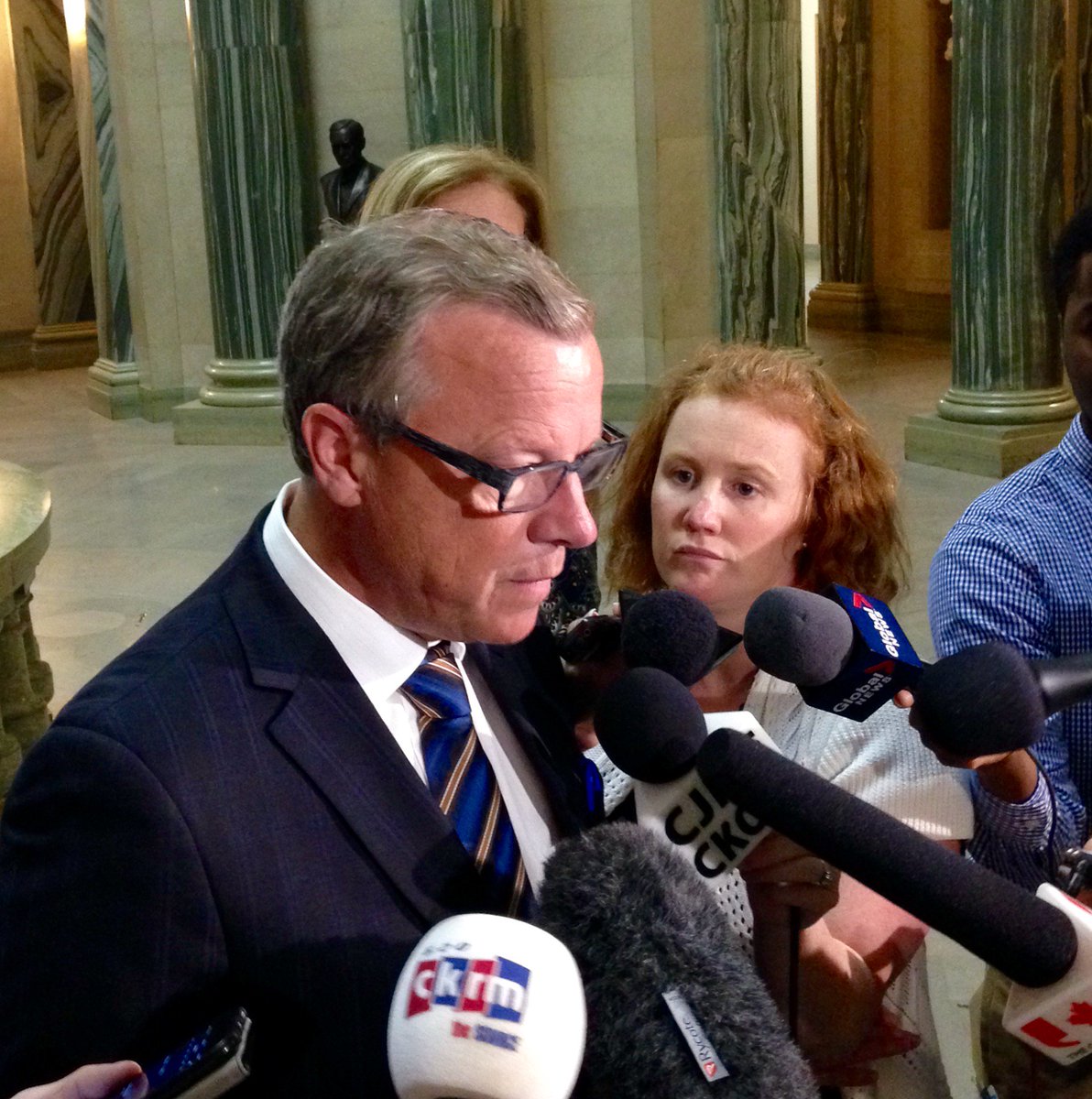 Politicians are offering their sympathies and taking action to soften the blow of the Rabbit Lake mine closure.
On Thursday evening, Cameco's CEO announced that 500 jobs will be eliminated indefinitely at its Rabbit Lake uranium mine.
On Friday, Premier Wall sent well wishes to those who lost their jobs and says the province's rapid response team has been deployed to help those 500 Cameco employees.
"It's a terrible day for northern Saskatchewan for those 500 people that have lost their jobs, at least temporarily," he said.
The province is deploying rapid response teams to help the laid-off workers find job opportunities, possible training, and brush up on job hunting skills.
But others point out that Cameco is one of the biggest employers in northern Saskatchewan, which could make it necessary for families to relocate for new jobs.
Wall said he sees some hope for renewal in the forestry industry as the US housing market and economy are strengthening.
"The forestry sector in particular might provide some opportunities for people to stay in the north," he said.
On the federal level, Desnethe-Missinippi Churchill River MP Georgina Jolibois issued a release on Friday, saying "I am deeply concerned about the people who will be losing their jobs because of this news in Northern Saskatchewan. My sympathies go out to these employees and their families in this difficult time."
Jolibois said she plans to fight to restore funding for regional economic development, with programs like Western Economic Diversification Canada.
In the meantime, Wall said there's some comfort in the fact that Rabbit Lake is still keeping on 100-plus staff to maintain the mine, especially since India has become a big buyer for Saskatchewan's uranium.
"I think that if they were giving up completely on Rabbit Lake they would have made the decision to close it down completely and they didn't make that decision," he said.
The ripple effect of the Rabbit Lake closure
It's not only workers at Rabbit Lake mine, but companies that provide services for its operations that will be impacted by its closure.
Northern Resource Trucking (NRT) provides all trucking services to Cameco's Rabbit Lake, McArthur River, and Cigar Lake operations.
Its president, David McIlmoyl said the ripple effect will be huge for companies like Athabasca Catering, which provides janitorial and catering for Rabbit Lake's mine and mill.
"Obviously their services are going to be vastly reduced because of the fewer people there; so their revenue's going to be impacted," McIlmoyl said.
However, he doesn't foresee NRT being impacted to heavily. That's because Cameco is going to up its production at its two other mines to make up for the four million pounds that Rabbit Lake was planned to produce this fiscal year.
The future for the six to eight trucks that were dedicated to Rabbit Lake operations could include "picking up the increased production in McLean Lake," McIlmoyl said.
Another things that softens the blow – for NRT and for Rabbit Lake workers - is that for the past three years or so, Cameco has done a five-month shutdown that ends in August.
"We had budgeted for the mill being closed from the end of April to the end of August anyway," Mcilmoyl said.
He acknowledges that job loss of this scale is sad for northerners, but McIlmoyl also says it's part of the reality in their industry.
"The mining industry typically - whether it's uranium, or the oil patch or potash or whatever -goes hard when the price is high and production's high and cuts back quite ruthlessly when the price drops," he said.
There's a chance NRT will have to lay off some of its workers later this year, but McIlmoil said NRT has made it through tough times like this before.
"You have to roll with the punches, I mean in 2000 when the prices were down we had some real problems, reduced revenue and that sort of thing. And it's happening again," McIlmoyl said.
Last Updated on Friday, 22 April 2016 16:50
| | | | |
| --- | --- | --- | --- |
| Cameco suspending production at Rabbit Lake mine, throwing 500 people out of work | | | |
Written by mbcnews
Friday, 22 April 2016 12:42
Cameco has announced it is suspending production at its Rabbit Lake operation in northern Saskatchewan.
The changes are expected to result in a reduction of about 500 positions at Rabbit Lake, including employees and long-term contractors.
The operational changes announced today include the curtailing of production at Cameco Resources' US operations by deferring wellfield development, affecting 85 positions.
President and CEO Tim Gitzel says continued depressed market conditions do not support the operating and capital costs needed to sustain production at Rabbit Lake and the US operations.
Cameco and its US subsidiaries say they are working with employees at the affected operations to ensure a safe and orderly implementation of the decisions.
CEO Tim Gitzel was in Rabbit Lake on Thursday to inform the employees there directly.
"This is tough, it was a tough day and I wanted to be standing with them personally when I informed them of our decision.  It was a difficult day for Cameco and the uranium industry, but we will work through it."
According to a release, the Rabbit Lake operation will be placed in a safe care and maintenance state allowing Cameco the option to resume production when market conditions significantly improve.
Gitzel says they are projecting a "lower for longer" scenario when it comes to uranium prices.
Cameco CEO Tim Gitzel speaking to reporters at Cameco headquarters in Saskatoon on Thursday night.
Cameco says it will offer affected employees exit packages. Where possible, the company also says it will consider alternatives such as relocation to other Cameco facilities and job sharing options as part of its effort to minimize the impact on people and surrounding communities.
According to the company, a workforce of about 150 people will be required to maintain the facilities and sustain environmental monitoring and reclamation activities at Rabbit Lake.
Half of the employees at the operation were from northern communities.
"We will work very hard with those employees to try and transition them to other jobs in Cameco if we can... we will be very compassionate and do what we can to help those people," says Gitzel.
The Cameco CEO also says he has been in contact with the Chiefs of the Athabasca region.
"I explained to them what we were doing and they were very understanding and willing to work with us because they see it as a long term relationship," says Gitzel.  "Better days are ahead, we believe in the industry we are in, we have seen the ups and downs and right now it's down, but we will come back again and these communities will prosper."
Cameco says work to transition the operation to care and maintenance will begin immediately and is expected to be completed by the end of August.
It also says workforce adjustments will occur over the next four months.
Gitzel says there will be no changes in any other Cameco operations.
Last Updated on Friday, 22 April 2016 12:43
« StartPrev12345678

9

10NextEnd »
Page 9 of 2565