Current News
| | | | |
| --- | --- | --- | --- |
| La Loche paramedics recognized for bravery | | | |
Written by Manfred Joehnck
Monday, 17 October 2016 16:16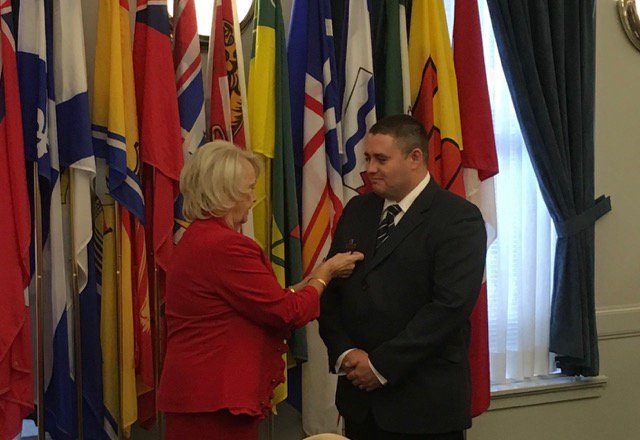 Kalvin Jones recieiveing the Bronze Medal for Bravery at Government House. Photo by Manfred Joehnck
The two paramedics who were first on scene at the La Loche High school shooting in January were among 23 people to receive bravery medals during a ceremony at government house in Regina this afternoon.
Darryl Morin and Kalvin Jones entered the school to help the victims even though the shooter was still inside. Jones says it was a scene of chaos when they arrived.
"People just started panicking like everywhere, like panic was like already fully set in," he said. "We started to figure out O.K., exactly what is going on here and we started clearing the area."
Jones says he did what any other paramedic would have done that day. His partner, Darryl Morin, did not want to get into detail about the events of January 22nd except to say everyone did their best.
"Like I really don't want to talk about it, like how difficult it was, we just responded that day and did what we had to do," he said. "It was a very sad day, that day, but we did all we could."
Morin has still not returned to work,  but expects to be back on the job in a couple of weeks.
Others to receive bravery medals from Saskatchewan's Lieutenant Governor included Jaret Nelson, a band councillor with the Montreal Lake Cree Nation.
On March 17th of this year, he went into the woods to track a suicidal man from the reserve who armed himself and drove off into the bush on a quad, later abandoning the vehicle and heading off on foot.
It was minus 20 at the time and getting colder. Nelson tracked the man for several hours eventually locating him, talking him down and brought him to safety. RCMP had advised Jaret to give up the search when it got dark but he persisted till he found the man.
Clark Whitecalf ran into a burning house on the Sweetgrass First Nation on August 31st of 2015 to save an 18-year-old woman. She suffered severe burns and smoke inhalation in the fire.
Whitecalf also suffered smoke inhalation as he crawled through the living room of the home in thick choking smoke trying to locate the victim.
Last Updated on Tuesday, 18 October 2016 08:30
| | | | |
| --- | --- | --- | --- |
| Northern communities remain affected by prolonged power outages | | | |
Written by David Smith
Monday, 17 October 2016 16:11
Courtesy saskpower.com
*UPDATE - SaskPower says the power in Dillon and St. George's Hill will likely remain off until tomorrow, due to damaged lines, the weather and road conditions.
*UPDATE - SaskPower says it's well aware of all the localized power outages in Meadow Lake and Green Lake -- even though power was restored to much of those communities this afternoon.
The utility says there is a large number of trees and lines down in those communities from the snow and ice buildup from the recent weather.
There is still no estimated time of repair for the outages in Pierceland, Goodsoil and surrounding area.
But SaskPower hopes to have power restored to Waterhen Lake by 8 p.m. this evening and in Ministikwan by 9:30 p.m.
Meanwhile, the Ministikwan and Makwa reserves have also lost SaskTel land line, cell and Internet services as a result of the power outages.
While crews are working to restore the services as quickly as possible, they don't have an estimated time of repair.
Power is gradually being restored to parts of western Saskatchewan affected by the recent heavy snowfall and rain.
This morning, SaskPower was reporting that most of Meadow Lake was without power because of several downed power lines in the area.
The utility is now reporting that electricity to the community is partially restored.
Outages were also reported in Goodsoil, Pierceland, Ministikwan, Makwa Lake, Loon Lake and surrounding areas.
This morning, repairs were completed and power restored in Pinehouse Lake.
An area stretching from Waskesiu north to Southend was also affected by an outage, which began Sunday afternoon and continued in some areas until early this morning.
SaskPower is reporting that there may still be some localized outages and crews are making patrols, looking for downed trees and power lines.
SaskPower spokesperson Jonathon Tremblay says members of the public are also being asked to report any downed power lines immediately, and to stay at least ten meters away from downed power lines.
"A downed line may not look like anything is happening, but power may still be flowing to it and that may actually energize the trees around it," he said.
The power outages resulted in precautionary drinking water advisories for a number of communities, including La Ronge and Air Ronge.
Anyone using water from the La Ronge system should boil it for one minute in situations where it may be ingested.
That includes things like brushing teeth, washing fruits or vegetables, washing dishes and making ice cubes.
Last Updated on Monday, 17 October 2016 17:10
| | | | |
| --- | --- | --- | --- |
| PAGC Grand Chief announces retirement, chiefs address recent suicides Annual Assembly | | | |
Written by Chelsea Laskowski
Monday, 17 October 2016 15:23
PAGC Grand Chief Ron Michel receives one of many hugs after announcing he wouldn't seek re-election. Photo by Chelsea Laskowski
The recent suicides of three girls from Lac La Ronge is weighing heavily on Prince Albert Grand Council's Annual Assembly.
Each leader's opening remarks touched on the losses.
"It really hurts to lose young people," said Peter Ballantyne Cree Nation Chief Peter Beatty.
He's urging leadership to take action on the preventative problem.
PAGC Vice-Chief Joseph Tsannie spoke about the struggles young people are having.
"We need to rise up, we need to come together and tackle the issue. Our young people are calling, we know that. Our communities are grieving continuously. It's never ending. We lose our loved ones, especially our children. That's something that we can never get over. We have to stand together," he said.
Tsannie said drugs, alcohol and the residential school era have left scars in PAGC's communities.
He said the tribal council is trying to implement a program to address suicide, and a group called youth action council is available for interested communities to access.
Both Tsannie and Grand Chief Ron Michel commended the Lac La Ronge Indian Band for its action to support the community in the past few weeks.
Michel has another important matter to address: his retirement.
He says after about 40 years leadership, first with Peter Ballantyne Cree Nation and for the past 12 years with PAGC, he's decided not to run for re-election next year.
Michel is keeping a sense of humour, saying with a laugh that he would go back to fishing and trapping "but I was no good at that anyways so I can't go back. So I'll go back and stay with my wife that I left for 35 years."
A long line of the hundreds of people in attendance lined up to hug Grand Chief Michel after his speech.
The annual meeting continued Monday afternoon with a review of PAGC financials, procedures, and PAGC's annual report.
A harvesting protocol resolution and a special recognition ceremony for women in leadership were also on the docket.
The assembly continues on Tuesday with vice-chief elections. Brian Hardlotte is the incumbent.
Last Updated on Tuesday, 18 October 2016 09:05
« StartPrev12345678

9

10NextEnd »
Page 9 of 2774