Current News
| | | | |
| --- | --- | --- | --- |
| STC re-elects Mark Arcand as Vice-Chief | | | |
Written by mbcnews
Thursday, 20 October 2016 15:08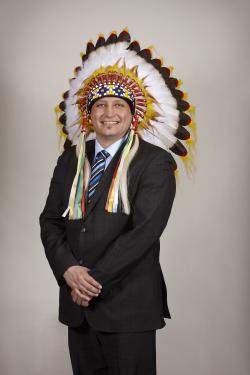 Vice-Chief Mark Arcand. Photo courtesy sktc.sk.ca.
The election results have come-in for Tribal Vice-Chief for the Saskatoon Tribal Council.
According to the electoral officer, Mark Arcand from Muskeg Lake Cree Nation was re-elected for his second term of Vice-Chief.
The election was held on Thursday.
Arcand originally joined the STC as vice-Chief in 2013.
Last Updated on Thursday, 20 October 2016 15:12
| | | | |
| --- | --- | --- | --- |
| First Nations safety conference looking to address occupational health and safety gaps | | | |
Written by Joel Willick
Thursday, 20 October 2016 12:00
A room full of people at the first ever SFNSA safety conference in Saskatoon. Photo by Joel Willick.
The Saskatchewan First Nation Safety Association held its first conference in Saskatoon on Thursday as a new organization.
The SFNSA was originally founded this past summer after CEO Toby Desnomie says he saw a gap in safety services for First Nations.
"Without going into the government side of things too much, there is a cause and effect of not having occupation health and safety in our communities, and we are just starting to address that," says Desnomie.
The conference will explore several ideas around safe workplaces, including awareness, risk assessment, documentation and liability.
Desnomie says the SFNSA is beginning a five-phase approach to their operation, with the first phase to raise safety awareness in First Nation communities. He says the conference is a beginning step in that process.
"So, we are going to come out to communities and find out what their needs are," says Desnomie. "I can assume anything, but we need to sit down with community members to build a strategy for community safety."
Desnomie says they have plans to hold this conference annually.
The organization recently signed a partnership with the FSIN, with both sides committing to better safety for First Nation communities.
Last Updated on Thursday, 20 October 2016 12:24
| | | | |
| --- | --- | --- | --- |
| APTN report debuting on death of Aboriginal woman in Regina | | | |
Written by Manfred Joehnck
Thursday, 20 October 2016 11:44
Regina family shares palliative care horror story. Stillshot from APTN Investigates preview video
The death of a 39-year-old Aboriginal woman in a Regina hospital two years ago is the subject of a special investigative piece, which will air on APTN Investigates Friday night.
Juliette Tapaquon died of cervical cancer in October 2014.
Her family claims she was denied compassionate care, was the subject of racial profiling and was even kicked out of the hospital because she wrote a text to her care nurse, saying she did not like the way a doctor was treating her.
APTN Investigates reporter, Kathleen Martens, says police were even called in.
"They escorted Juliette out of palliative care and out of the hospital," she said. "Additionally, Juliette told her family that she was barred from the hospital, could not return and not allowed to even come on hospital property. And they discharged her, the family says, without a care plan."
Tapaquon was eventually readmitted to the hospital a few weeks before she died, but was placed in a general ward.
The APTN report airs Friday night at 6:30 pm, you can also view it on their website.
Last Updated on Thursday, 20 October 2016 12:20
« StartPrev1234

5

678910NextEnd »
Page 5 of 2775