Current News
| | | | |
| --- | --- | --- | --- |
| McArthur River nets Cameco third consecutive national safety award | | | |
Written by Chelsea Laskowski
Tuesday, 03 May 2016 17:40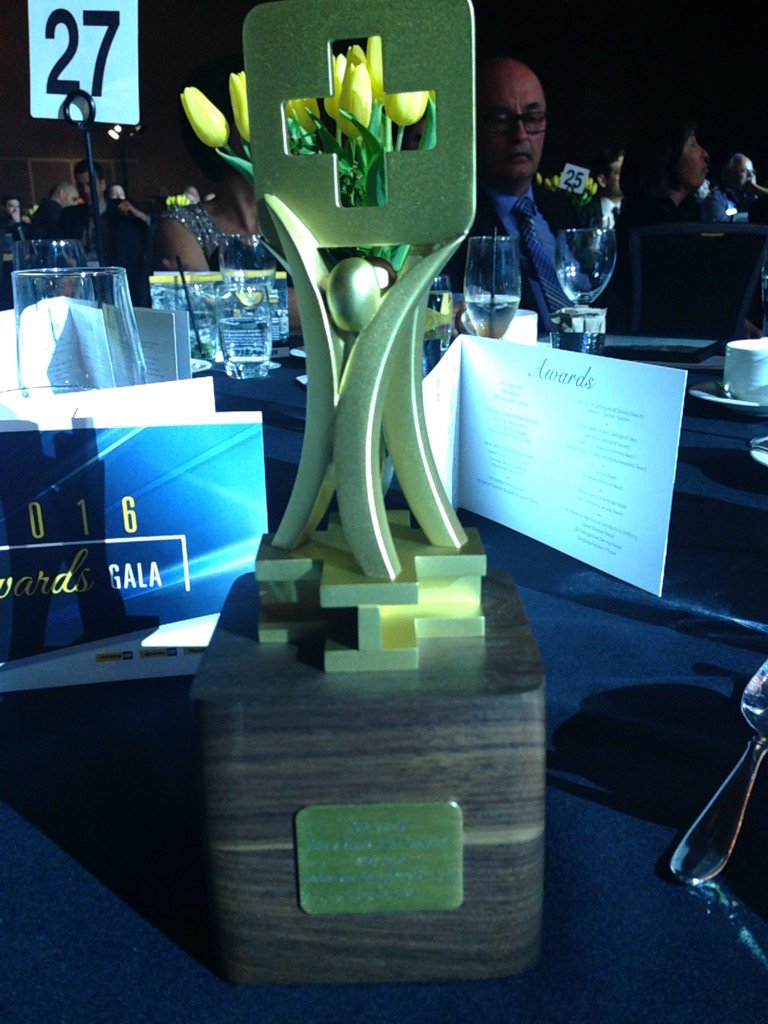 Cameco's John T. Ryan National Safety Trophy. Photo courtesy Twitter, @SaskMiningAssoc
One of Cameco's high-performing mines is receiving a national safety award for the third year in a row.
At a ceremony in Vancouver on Monday, the Canadian Institute of Mining handed John T. Ryan National Safety Trophy to Cameco for its work at McArthur River.
McArthur River is responsible for nearly half of Cameco's total annual uranium production, and has been in that position each of the five years total that it's won the award.
In a video posted on Tuesday, CEO Tim Gitzel congratulates the team.
"We are very, very proud of the team up there and the work they've done. I think they've worked last year, 2015, about 1.86 million hours without a lost-time accident," he said.
In last week's Quarter 1 financials, the company announced it will reduce its annual production at McArthur by 2 million pounds below its original production forecast due to the current oversupply of uranium on the market.
McArthur River is one of Cameco's lowest-cost highest production uranium sites, but Cigar Lake has been the biggest production success story for the company over the past year, blowing its production target for 2015 out of the water.
Last Updated on Tuesday, 03 May 2016 17:47
| | | | |
| --- | --- | --- | --- |
| Fire conditions described as extreme and volatile in much of the province | | | |
Written by Manfred Joehnck
Tuesday, 03 May 2016 11:58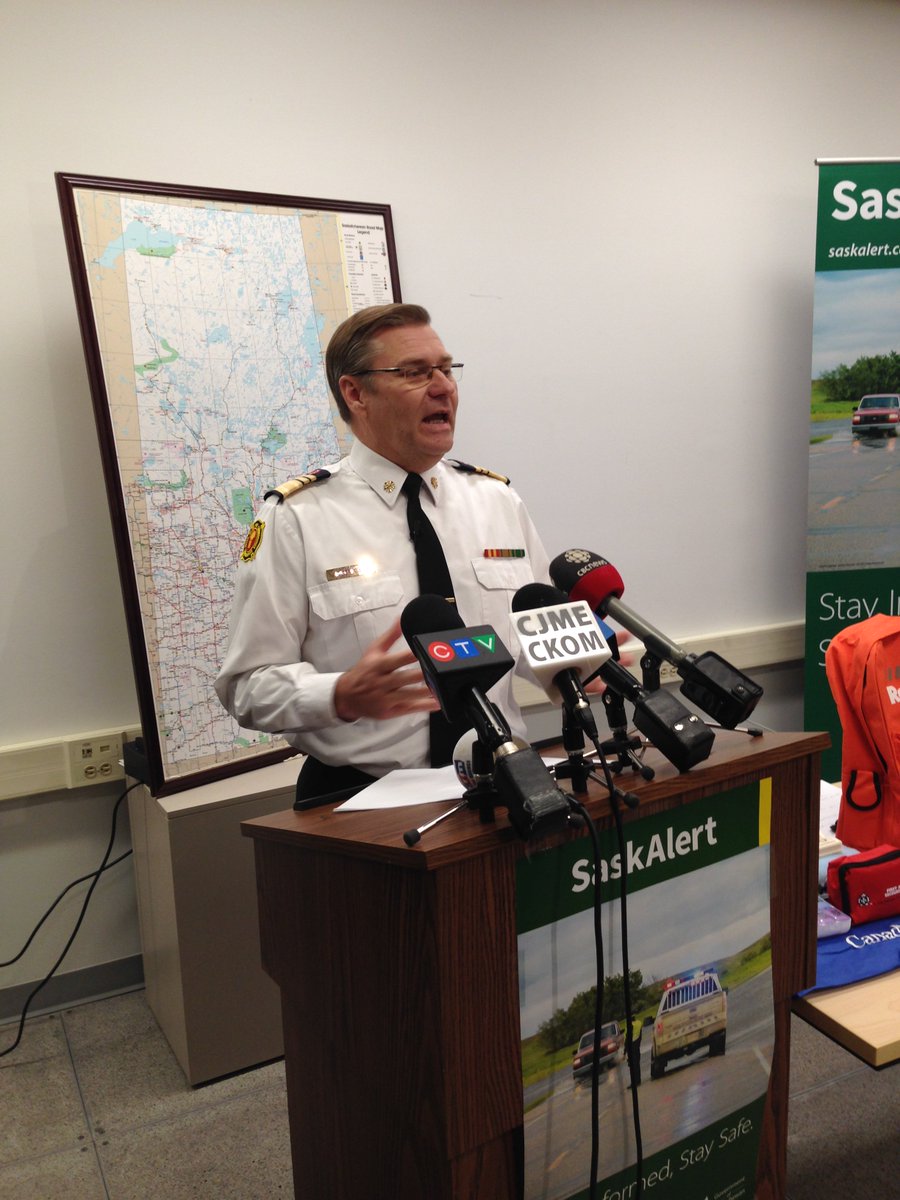 With the threat of another bad season for wildfires, provincial officials are advising residents to be prepared and to be ready to leave on a moment's notice.
This is Emergency Preparedness Week, and the government is encouraging all Saskatchewan residents to put together a basic emergency kit that will last at least 72 hours.
Water, non-perishable food, a flashlight, batteries, a radio, a first-aid kit and your prescriptions should be in the kit. Another piece of advice is to make sure you have copies of your health cards and other identification including photos of family in case you get separated during an evacuation.
The province's fire commissioner Duane McKay, says the forest fire threat is already extreme in many areas of the province.
"That new weather pattern that we see coming over will certainly bring with it hot, dry weather with temperatures in the high twenties or low thirties and very low humidity, " he said.  "That puts us into what we refer to as a 'crossover situation,' where things are extremely volatile.
Last year, fires forced the evacuation of more than 13,000 people from their homes - it was the largest evacuation in the provinces history.
McKay says being prepared is critical.
"We did bring our wildfire crews in a little early; aircraft were up and flying. In fact yesterday they were in the Neudorf area dropping fire retardant," he said. "So we are a lot more coordinated and we have learned a lot from last year."
Last there were more than 700 wildfires in the province. Currently there are 12 burning, but only two are listed as out of control. So far this year there have been 96 fires compared to 75 for the same period last year.
An open fire ban is in effect for many areas of the province already because of the tinder-dry conditions. It is up to local municipalities and First Nations to declare the fire bans.
Last Updated on Tuesday, 03 May 2016 12:04
| | | | |
| --- | --- | --- | --- |
| Fire Ban Announced for La Ronge area, but 'let's not get too excited' says mayor | | | |
Written by David Smith
Tuesday, 03 May 2016 11:11
A photo taken when La Ronge Fire Department was tackling a wildfire in the Mowery Subdivision. Photo courtesy Facebook, Kandis Riese.
The La Ronge Regional Fire Department has announced a fire ban for the Town of La Ronge, the Village of Air Ronge and the Lac La Ronge Indian Band #156 and 156B.
No open fires are allowed, although propane barbecues and briquettes are allowed.
The fire ban is in effect until further notice.
La Ronge Mayor Thomas Sierzycki says with the warm, dry spring, everyone needs to be reminded to be careful.
"To ensure that our residents and the public in general are using caution and of course are really practicing fire smart principles, we know from last fire season that it can change very quickly, at the same time let's not get too excited, there's things in place for certain responses, people just need to be smart about what they are doing".
Sierzycki says a fire in the north end of La Ronge Monday afternoon is still under investigation and it is not know what sparked the blaze.
"There was no burning permits issued for that area, so again it leads to speculation of sorts, the RCMP and the fire department will continue to investigate and that's up for their discussion.
Members of the La Ronge Regional Fire Department and crews from the Ministry of Environment were called late in the afternoon.
The blaze was brought under control later in the evening.
Last Updated on Tuesday, 03 May 2016 15:40
«

Start

Prev

1

2345678910NextEnd »
Page 1 of 2569