Current News
| | | | |
| --- | --- | --- | --- |
| Prince Albert homeless count takes a snapshot of the issue | | | |
Written by Chelsea Laskowski
Friday, 27 May 2016 16:22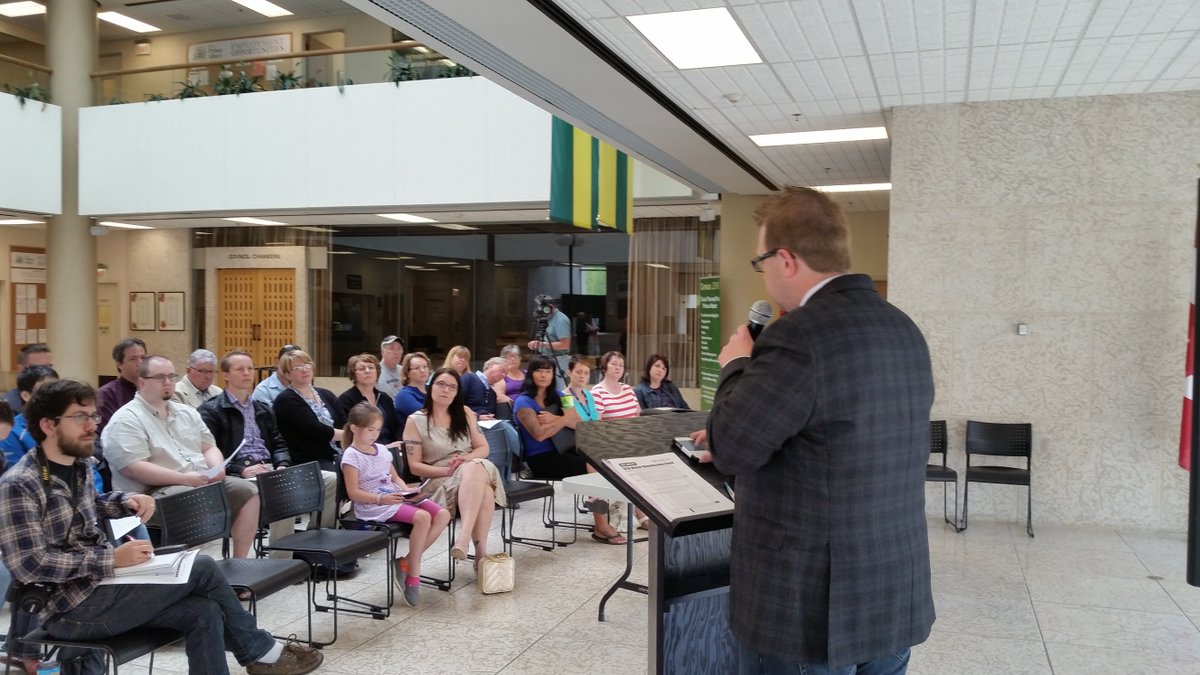 Of the 101 people identified in a one-night homelessness count in Prince Albert, 85 per cent are aboriginal.
As part of Prince Albert's federally-funded homeless partnering strategy, researchers undertook a survey on March 22 looking at how many people are on the streets or in shelters.
The statistics were unveiled at Prince Albert City Hall on Friday by the man who conducted this year's count, Dr. Chad Nilson of the Living Skies Centre for Social Inquiry.
He describes the point-in-time survey as a "snapshot" of homelessness in the city.
Nilson said it's not easy to pinpoint the numbers - because homelessness in Prince Albert doesn't fit into the Hollywood image of pushing shopping carts and living in cardboard boxes in back alleys.
"We have individuals that are affected by weather, we have individuals that are on the move, and they're trying to move from building to building, just trying to keep active, trying to keep warm," Wilson said.
"We have individuals that look just like you and I that are walking around literally hours a day in the community because they have nowhere to go."
For the March 22 count, two teams worked with local agencies like Mobile Crisis to find hotspots - places where homeless people often stay. Nilson even reached out to an anonymous taxi driver to identify other locations as they walked and drove around Prince Albert.
This is Prince Albert's 2nd-ever homeless count. Last year's numbers were way higher - with more than 250 people identified. However, that number included estimates of people who are staying with family and friend, but have no home. Those people were named the "hidden homeless," and did not factor into the 2016 count.
Nilson says, anecdotally, he thinks Homeward Bound - a program that currently provides housing for 80 chronically and episodically homeless people - has put a dent in last year's number. The program employs the Housing First model.
Nationally, federal funds will be provided to homelessness initiatives in Prince Albert until 2019.
Although this is the second count, this is the first time it's been done in partnership with Service Canada. These numbers will become a part of a wider picture of homelessness across Canada.
Last Updated on Friday, 27 May 2016 16:25
| | | | |
| --- | --- | --- | --- |
| FSIN Chief talks about motions passed at spring assembly | | | |
Written by Chelsea Laskowski, Joel Willick
Friday, 27 May 2016 14:13
The FSIN passed a large number of motions at its spring assembly in North Battleford this week.
Among them, were calls to support Prince Albert Grand Council's anti-bootlegging/transportation of alcohol initiatives.
"We can't stop everything but at least if we decrease the bootlegging that's happening at least we're doing something," said FSIN Chief Bobby Cameron.
Another in the series of resolutions, was support for the treaty right to hunting protocol agreement.
"Any Conservation Officer will and shall get the permission of chief and council before entering onto any First Nation community to do an investigation. It's about respect and communication," Cameron said.
Talks about the Saskatchewan Indian Gaming Commission were held behind closed doors, but the rest were out in the open.
Treaty implementation was a hot topic throughout the two-day assembly.
Other topics include FSIN creating an inherent and treaty rights-based operational plan, to last for the next five years.
On Cameron's file, a motion was made for First Nations to replace INAC's treaty status card with their own treaty implementation cards.
"Currently, INAC's status card has an expiration date. Our inherent and treaty rights don't expire," he said.
Cameron said at FSIN's last assembly, one chief showed a decades-old treaty card that listed all inherent and treaty rights. That inspired their plan to move ahead in creating new cards.
Cameron is also happy with the vote for a name change to the Federation of Sovereign Indigenous Nations. The resolutions made during the week will go on to the Assembly of First Nations national conference.

The two-day assembly wrapped up Thursday afternoon.
Last Updated on Friday, 27 May 2016 14:49
| | | | |
| --- | --- | --- | --- |
| Cree man continues on marathon mission to end violence | | | |
Written by Manfred Joehnk
Friday, 27 May 2016 12:11
A Prince Albert man is on a marathon mission to raise awareness about domestic abuse.
Conrad Burns, 38, arrived in Regina Friday as part of his cross-Canada walk. He says he is being well-received, but his fundraising campaign has fallen a little flat.
Burns arrived at the Saskatchewan legislative building during the noon hour after walking from La Ronge. He plans to put a total of 7,400 kilometers on his running shoes, arriving in Victoria in mid- August.
It's a personal mission for him. He has been in two abusive relationships where he was the victim. In both cases he left.
He says it takes a lot of guts to do that and usually a number of attempts, but he says it is the right thing to do because the abuse will just get worse.
"It escalates, it just gets worse and worse because the abuser realizes you are going to take it and they really have less and less respect for you," he said. "So leave an abusive relationship - if not for you, for your children. Let them know that abuse, even among family members, is not acceptable."
Burns said he is hoping to raise $25,000 for women's shelters and to raise awareness about abuse, which affects about one in four women and one in six men.
So far he has managed to raise only about $500. He is optimistic the campaign will pick up.
"I love to give back to the communities as I go through them, unfortunately it's not going very well," he said. "I am hoping as we get more and more momentum as we cross this country we are going to raise more money because in my community the woman's shelter helps about 1,000 women a year, but at the same time is turning away about 1,000 women."
The Saskatchewan walk is bit of a detour from his national campaign. From Regina, Burns will fly to Ottawa to pick up where he left off after beginning his walk in St Johns on April 1. He expects to arrive in Victoria by the middle of August.
After that he will focus his efforts on running for mayor in the city of Prince Albert.
Burns has a gofund me campaign entitled, "Rise up against violence"
You can also follow his walk on Facebook at "Rise up walk to end violence."
Last Updated on Friday, 27 May 2016 14:49
«

Start

Prev

1

2345678910NextEnd »
Page 1 of 2605