Current News
| | | | |
| --- | --- | --- | --- |
| Lac La Ronge Chief and northern Medical Health Officer offer update on suicide response | | | |
Written by Chelsea Laskowski
Tuesday, 25 October 2016 16:22
Dr. James Irvine and Lac La Ronge Chief Tammy Cook-Searson.
Suicide is a tough topic, but leaders in the north know they can't afford to avoid talking about it.
This month, four girls have taken their lives in northern Saskatchewan. Two of the girls were from Stanley Mission, one was from La Ronge, and the most recent death was a girl from Deschambault Lake. All were under the age of 14.
On Wednesday, MBC aired an hour-long interview with Lac La Ronge Chief Tammy Cook-Searson and Medical Health Officer Dr. James Irvine, who represents the three northern health regions. They acknowledge there are still immediate risks, but are also looking at long-term ways to strengthen the communities in the north.
Irvine said "clusters" of suicides like this can lead to further attempts within a community. Losing a friend, family member, or community member has a ripple effect that can reopen other people's unresolved past issues.
It's important to be supportive and vigilant, especially when someone you know has had suicidal thoughts in the past, been abused in the past, or dealt with addictions, Irvine said.
"It's quite alright to ask if someone is contemplating suicide and it's not something that'll increase the risk," he said.
"It's quite important ask that and it's important to take that message seriously."
When it comes to depression and suicide risk, there are indicators for people to be aware of: lack of motivation, appetite loss, irritability, anger, hostility, and loss of concentration.
Cook-Searson said she hadn't been aware of all the warning signs years ago when her sister took her own life, and now she wants to make sure others know.
Coping with the loss led Cook-Searson to counselling, which she emphasizes "doesn't make you weak."
She also encourages people to reconnect with the land, saying something as simple as a walk can do wonders for a person's wellbeing.
In the long term, Cook-Searson says the north needs a wellness healing centre. She has spoken to federal representatives about this in the past.
The band says they have a community safety plan, but are also responding to people's ideas.
"This was a suggestion by one of the parents too that lost their loved one, they said 'even just a place where our youth can just come have coffee, just have a tea, just somewhere they can visit with each other,'" Cook-Searson said.
"So that's one thing that we're doing is hiring two youth workers and probably retain the services of our Elders" and do arts, moccasin-making, and other crafts.
There are a number of steps being taken in school, including a proposal for youth workers in each school.
Last Updated on Tuesday, 25 October 2016 16:53
| | | | |
| --- | --- | --- | --- |
| NDP questions government on NORTEP/NORPAC consolidation during Legislative Assembly | | | |
Written by Joel Willick
Tuesday, 25 October 2016 15:22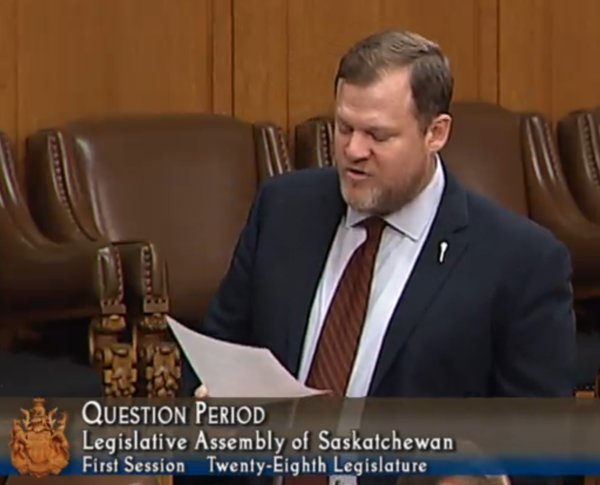 NDP's Advanced Education Critic Warren McCall during Tuesday's sitting of the Legislative Assembly
The province's NDP opposition party is once again questioning the government's decision to consolidate funding to the Northern Teacher's Education Program.
The matter was brought up during Tuesday afternoon's sitting of Legislative Assembly where Advanced Education Critic Warren McCall questioned the government's decision to sign a 5-year funding agreement with NORTEP before the election.
"Mere weeks after the election they come in under the (idea) of transformative change to say that our signature on the agreement wasn't worth the paper the signature went on," says McCall. "How is it that they said one thing before the election, that the north counted on, and one thing very different after."
Here was Advanced Education Minister Bronwyn Eyre's response.
"This is about finding the best and most sustainable solution for the future of the north, so that northern students can continue to thrive, build lives, have jobs and train in the north... for the betterment of all communities," says Eyre.
The government has not yet been able to provide a figure for how much the consolidation of NORTEP/NORPAC would save the province.
"This issue needs a straight answer," says McCall.
McCall also touched on recent comments from Ken Ladoucer , Director of Education of the Northern Lights School Division who says there is a shortage of teachers in the region, which McCall says is contrary to recent comments made by Eyre.
In a Saskatoon StarPhoenix article Ladoucer says the NLDS began the school year with 6 vacancies and still has three unfilled positions.
"When will this Minister get the facts straight and honour the commitment this government made to the students, teachers and northern communities who are counting on the vital work of NORTEP/NORPAC," says McCall.
According to Eyre her remarks were not in contrast with Ladoucer's comments.
"What I said was there were more students interested in pursuing teacher education than there are spots. That's not inconsistent with the comments by Ken Ladoucer that there is a chronic shortage of teachers," says Eyre. "That's why we need to ensure that there is sustainability and growth in the north and that needs are being met and there is always more work to be done"
According to a recent study on the NORTEP program 94 per cent of graduates from 2010-2015 were currently employed in northern Saskatchewan.
Last Updated on Tuesday, 25 October 2016 15:25
| | | | |
| --- | --- | --- | --- |
| Martin speaks just days after being fired from Ice Wolves | | | |
Written by Braden Malsbury
Tuesday, 25 October 2016 14:39
Former Ice Wolves Head Coach/GM Shawn Martin. Photo courtesy of Facebook.
Former La Ronge Ice Wolves Head Coach and GM Shawn Martin is speaking out just days after being fired from the SJHL team.
Martin said today in an exclusive interview with MBC Radio that he's a little bit surprised he was let go.
"Obviously, going into the season, we sat down as an organization and kind of identified we were going to need to go a lot younger than we wanted to, just for various reasons," said Martin. "So, it was going to take time to develop this group of guys. The timing was definitely a lot earlier than I thought."
MBC asked Martin what reasons the Ice Wolves Board of Directors gave him for his dismissal.
"Talking to a couple of the board members, there was concerns that sponsorship and attendance was down and a change needed to be made." said Martin.
"They also talked about the players, they figured some players were underperforming. I don't know if that's really fair – a lot of the kids here right now are playing other roles that they probably shouldn't be in. They're a young group and I don't think that they should wear this at all. It would probably be more of the players that didn't report here or guys that left our team at the end of last season should probably share it."
Martin said right now he's on his way back to Alberta. He mentioned that he will likely take some time off to relax and re-evaluate, but he says numerous teams have already contacted him about various hockey jobs.
Martin also wanted to thank the Ice Wolves organization for giving him the opportunity. He also thanked numerous others for their support during his tenure in the SJHL.
Meantime, the search for a new head coach and general manager continues.
Last Updated on Tuesday, 25 October 2016 14:50
«

Start

Prev

1

2345678910NextEnd »
Page 1 of 2778