Current News
| | | | |
| --- | --- | --- | --- |
| Federal ministers open dialogue with First Nations chief at 2nd day of the FSIN spring assembly | | | |
Written by Joel Willick
Thursday, 26 May 2016 14:38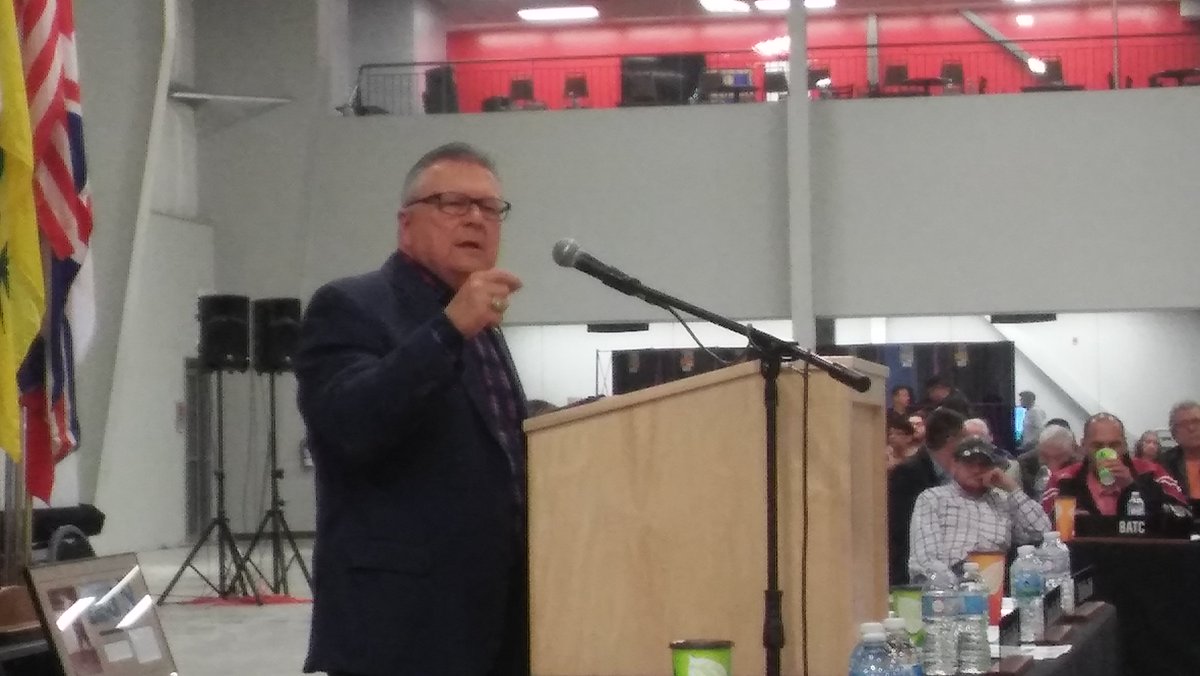 Day 2 of the newly-named Federation of Sovereign Indigenous Nations spring assembly continued on Thursday with two presentations from federal ministers.
Minister of Infrastructure and Communities Amrjeet Sohi and Minister of Public Safety and Emergency Management Ralph Goodale were on hand for the proceedings.
Both ministers spoke on their governments renewed effort to build relationships with First Nations across Canada.
Minister Sohi opened the day speaking on the Liberal government's investments in infrastructure.
As seen in the federal budget, Ottawa will invest $1.4 billion in immediate infrastructure needs for First Nations and $120 billion over the next ten years. Minister Sohi said their goal is to end boil water advisories and build better roads and health centers on reserve.
Prince Albert Grand Council Grand Chief Ron Michel asked the minister about the possibility of a road to Hatchet Lake First Nation. While Minister Sohi didn't give any specifics, he says they are working on it.
Minister of Public Safety Ralph Goodale says he plans to use the day as an opportunity to dialogue and learn from the First Nations affected by the northern Saskatchewan forest fires last summer.
During a question and answer period, Minister Goodale was grilled with questions about emergency management in First Nations communities from fires to flooding. He said the goal of the federal government is to build capacity in these communities.
"We need to build capacity that is as strong in Indigenous communities as in any other community across Canada."
Minister Goodale also spoke on the Trudeau government's efforts to build relationships with First Nations.
"The relationship that will matter most to Trudeau's government is the relationship with First Nations people."
Also speaking on Thursday morning was AFN National Chief Perry Bellegarde.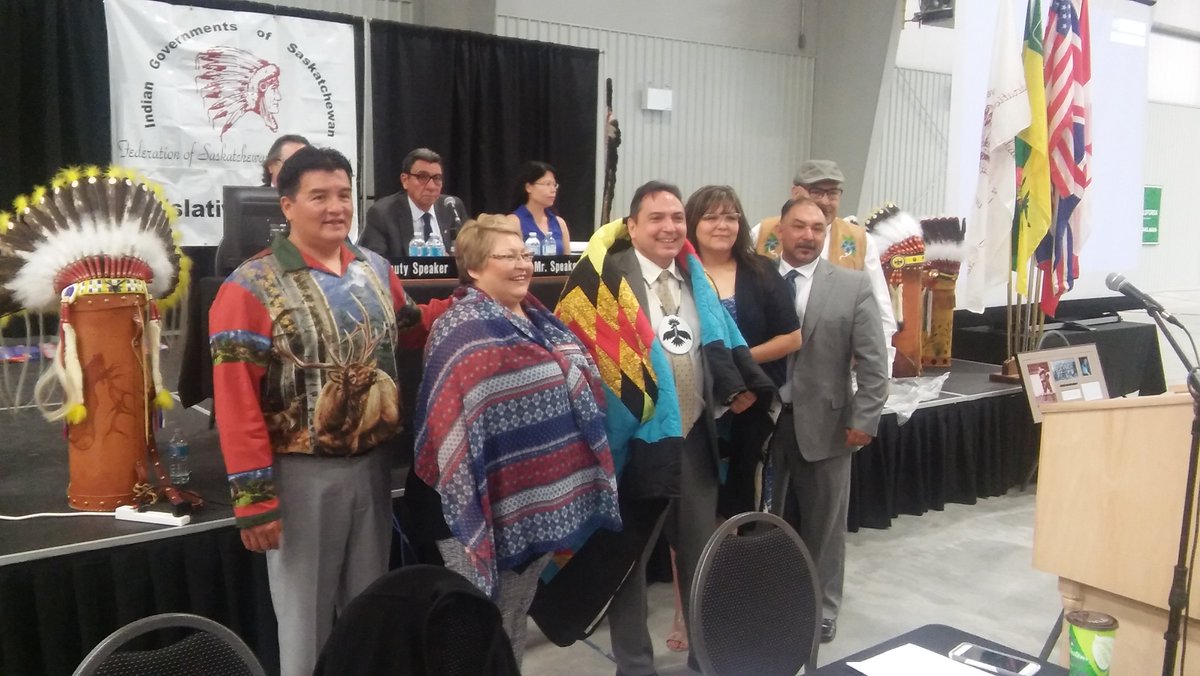 The National Chief said "sunny ways" are here for First Nations ever since the October 19 federal election.  He says the new government has proven their commitment to First Nations people.
Chief Bellegarde cited an inquiry into missing and murdered Indigenous woman, a dedication to the calls to action from the Truth and Reconciliation Committee's recommendations and investments in First Nations education and infrastructure as a few examples of these commitments.  The AFN National Chief also says the fact that three federal ministers are here at the FSIN assembly speaks to that narrative as well.
"We are working together, we are rebuilding the relationship, having three representatives of the crown come to the FSIN assembly is huge," said Chief Bellegarde.
The National Chief also announced the 2017 AFN general Assembly will take place in Regina.
Throughout the rest of the day the FSIN will be voting on several more resolutions.
Last Updated on Thursday, 26 May 2016 14:56
| | | | |
| --- | --- | --- | --- |
| NDP grills province on northern Sask. health care, forestry jobs in PA area | | | |
Written by Chelsea Laskowski
Thursday, 26 May 2016 14:19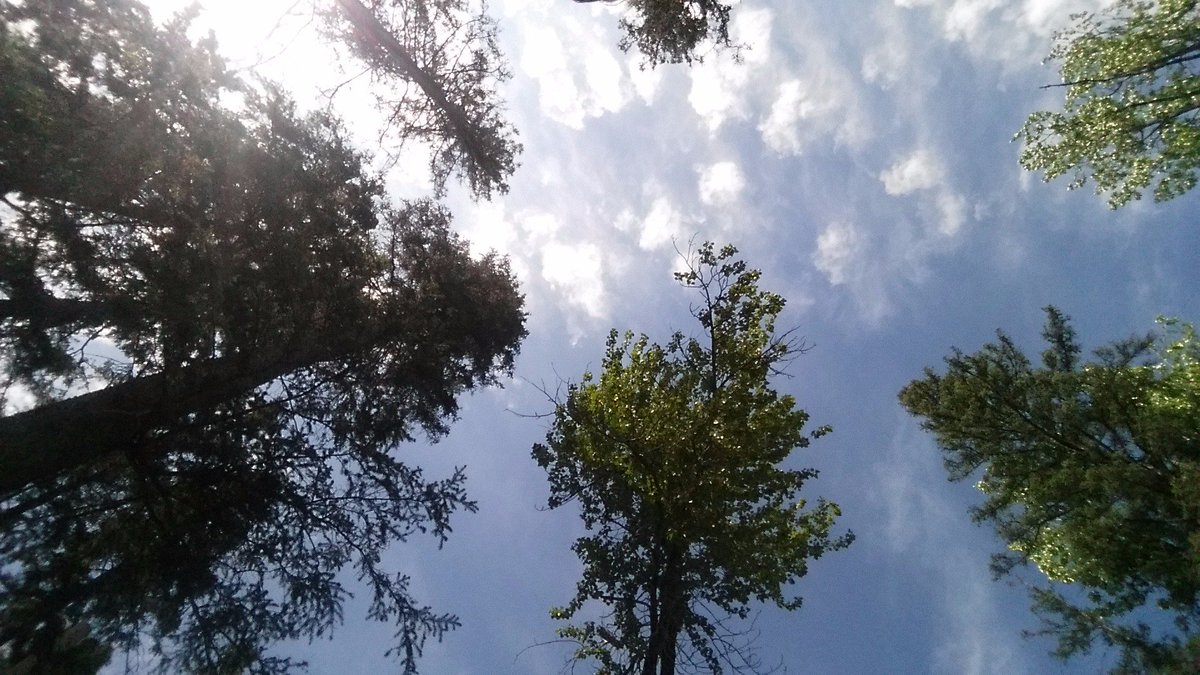 The provincial NDP is looking to land some blows against the Sask Party in the lead-up to next week's budget unveiling, delivering a series of questions on northern healthcare and forestry in the Prince Albert area.
In Thursday's Question Period, longtime Athabasca MLA Buckley Belanger questioned how northern Saskatchewan will fair in a review process underway in the healthcare field.
"Will the health minister guarantee today that his 'transformational change' won't mean less northern investment and less input over northern care?" he asked.
Minister Dustin Duncan responded with assurances that northerners, and people across the province will be consulted during the review.
"We will make ensure that we have northern involvement in that, northern input," he said, "as we look to see not only what is the best way that we govern the health-care system in this province but how do we best-deliver services as close to home as possible, which this government has made a priority over the last eight years," he said.
But that's not good enough for Belanger, who said he knows first-hand what's at stake if the province centralizes healthcare operations.
"I've been to the healthcare centre in Stony Rapids and the people out there are doing a fantastic job. They offer culturally appropriate care, they hire local people, and they have Dene speakers on site."
But Duncan stands behind his government's record on investment in northern health regions. Keewatin Yatthe Regional Health Region's budget is currently $26.9 million, up 55 per cent from when the NDP was in power. He added that Athabasca is up 46 per cent and Mamawetan Regional Health went from $16 million under the NDP to $28.8 million now.
Moving ahead, recently elected Prince Albert Northcote MLA Nicole Rancourt made a thinly veiled reference to former Sask Party MLA Victoria Jurgens when asking about forestry jobs that have been publicly tendered to BC and Alberta.
"I know the Sask. Party has a history of ignoring Prince Albert, but I'm here now. Why is the Minister of Environment shipping jobs out of the province when so many people in Prince Albert are looking for work?" she asked.
Rancourt points out that Prince Albert's unemployment is among the highest in the province.
But the minister says they've been nothing but transparent about those jobs, and it's a simple case of an out-of-province company making the best bid.
Last Updated on Thursday, 26 May 2016 14:29
| | | | |
| --- | --- | --- | --- |
| Notes from the assembly floor: Day 1 recap from FSIN's spring legislative | | | |
Written by Chelsea Laskowski
Thursday, 26 May 2016 10:00
The FSIN's name change grabbed a lot of people's attention on the first day of its spring Legislative Assembly, but there were numerous other motions on the table for Saskatchewan's chiefs to consider.
A long list of amendments to FSIN's Election Act was one of the most controversial topics at the North Battleford gathering on Wednesday. One amendment proposed changing the bond to run for office with FSIN from $1,000 to $3,000.
Saskatoon Tribal Council Chief Felix Thomas said he knew that the previous bond amount existed to deter frivolous candidates from entering the race, but now it seems the jump is going towards offsetting the costs of the election assembly.
Lac la Ronge Chief Tammy Cook-Searson said she believes the three-fold increase to $3,000 is too much, and wants to keep the bond at $1,000.
Others suggested the amendments were being rushed, and said it's important the people involved in drafting those changes are impartial.
The motions to carry those amendments were rescinded, and it will be brought back in July.
Much of the FSIN's agenda on Wednesday centred on making changes that reflect its role in the new national political landscape. This included motions to create Treaty Implementation Cards to replace Treaty Status Cards and motions to discuss the re-establishment of nation-to-nation relationships with Canada.
On the first day, chiefs heard about a big investment in Indigenous job training and opportunities from the Liberal Minister of Employment, MaryAnn Mihychuk.
FSIN Chief Bobby Cameron says having a new government that's receptive to change, means now is the time for FSIN to act.
"Now is the time, now is the opportunity to really assert our jurisdiction and sovereignty as treaty people," he said.
He reiterated that when speaking to the hundred or so chiefs, delegates and observers on Wednesday, saying FSIN needs to seize the opportunity to make their legislative changes count because "we know they wouldn't happen under the Conservatives."
But there's been some ground-level dispute over FSIN's role when it comes to implementing treaties, led by Sakimay Chief Lynn Acoose. Acoose repeated numerous times throughout Wednesday that it's not FSIN's role to enact treaty implementation, and asked FSIN to refrain from claiming that it is.
"Our people on the ground do that," she said. "Our people are the ones who have that power."
That will likely come up again on Thursday, as well there will be speeches from two more federal ministers at the North Battleford assembly.
Last Updated on Thursday, 26 May 2016 10:06
« StartPrev1

2

345678910NextEnd »
Page 2 of 2604